Economics tie in quite heavily to the health of the real estate market. The Lehigh Valley Real Estate Investor and Developer Symposium on Oct. 6th was excellent. Our local economy is really buzzing along. Despite all the pandemic challenges, our area is the fastest-growing economy in the nation! Here's a Transportation Development Company slide that LV Planning Commission Executive Director Becky Bradley was able to share, during a head-spinning overview of where the LV is, and where it's going… good news: Lehigh Valley = a SUPER STRONG local economy!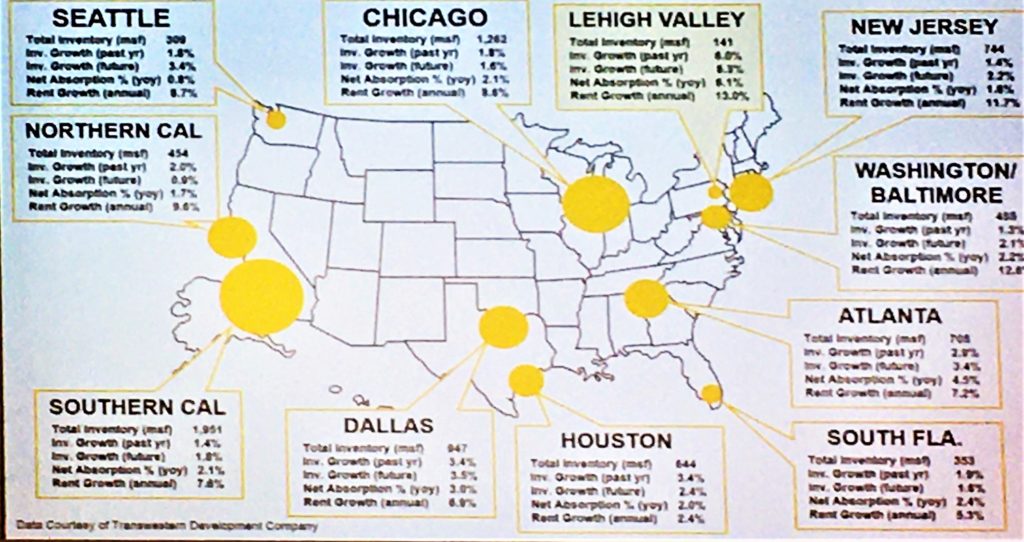 As 'non-essential' workers for nearly 3 months in spring of 2020, Realtors in PA had to try to resort to 'virtual sales' but that certainly was not easy when even videographers were not allowed to visit properties – making 'virtual tours' nearly impossible to produce (unless the property owner was savvy enough to put one together). As the last state in the nation to consider Realtors as 'essential', PA seems to have churned up a cuckoo-volume of pent-up demand in that critical spring 2020 market. The pandemic made people re-evaluate their living situations and SO many wanted to flee higher density areas, but land within 60-70 miles of the NYC radius.
Some of that wave of pent-up demand seems to still be here a year later. While back-to-school uncertainty with covid seems to be affecting the fall 2021 market a bit (some covid flare-ups, and then having children at home having to quarantine; so a parent is not able to go into work). While it has been an incredibly strong Sellers market in 2021 here in the Lehigh Valley, there is a tiny bit of a back-to-school lull now and we are starting to see a few price improvements as sellers notice that holidays and winter are just around the corner.
On average, residential home prices have shot up over 10% since 2020. With continued low interest-rates and with many re-evaluating their living situation after the 'stay – at – home' pandemic consequence, demand has been stronger than ever to find housing in the Lehigh Valley. Meanwhile, with supply chain shortages and less available land, building costs have sky-rocketed. Many are staying put in their homes; as their is then the next challenge of finding suitable living in a very competitive market. There is a pretty severe housing shortage at this point in the Lehigh Valley and it's driven prices up, up, up. Compared to other markets with strong economies though, the Lehigh Valley home prices still seem to be a bit undervalued; relative to other major economic boon markets.
Check out the local August-over-August market here: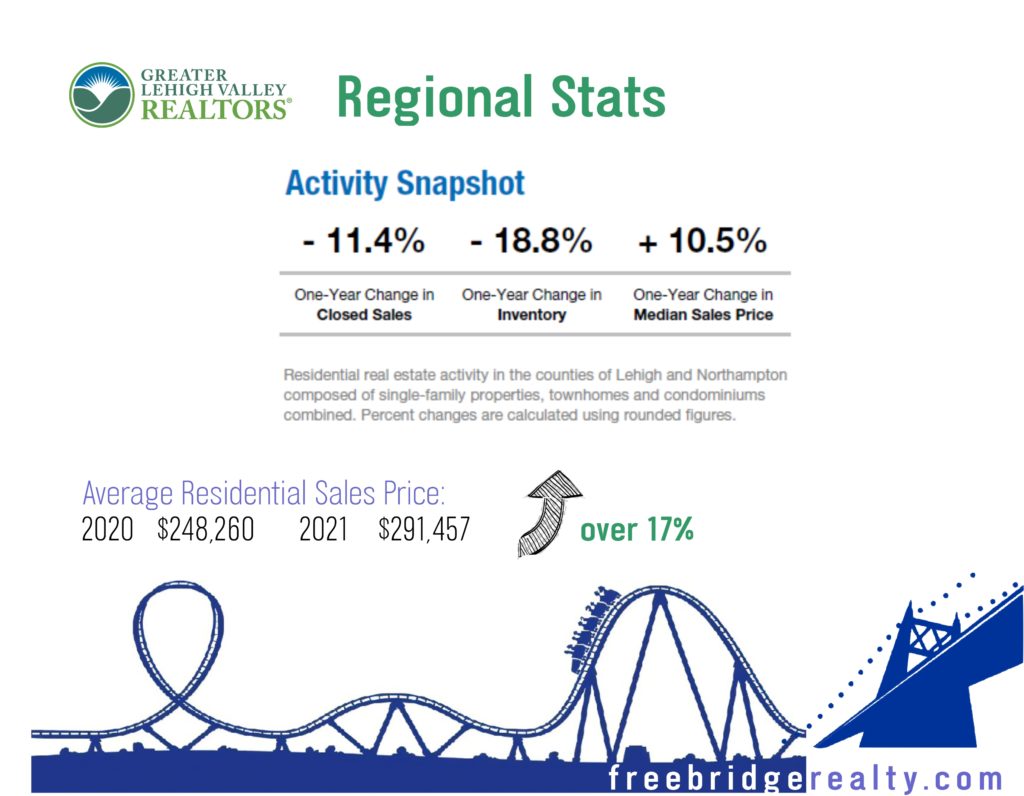 Unprecedented! The Lehigh Valley Planning Commission tracks many industrial and housing trends and needs… warehousing and distribution centers are taking over the light industrial world in the Valley and beyond, since it's in such a strategic logistical center. Elevated cube-warehousing is coming our way next – some municipalities (one in particular near rte 80 where a large new industrial park is being planned in Upper Mt Bethel) will be changing ordinances to allow up to 10-story 'cube warehousing' soon; at least that's a bit more economical than 1/2-mile sprawling warehouses with no redeeming energy value (why aren't there energy-generating solar panels across these, so that more efficient power and some resources can go back to the local community? Maybe more sustainability restrictions would be good).
'NO MORE WAREHOUSES' yard signs all over, and in Phillipsburg, NJ. At this point they do still provide a few jobs – but it will be less and less with more warehouse automation. Do the folks with these yard signs order loads of household goods and consumer stuff from Amazon, and Target and all the usual giant warehousing distribution suspects to be delivered to their home?
The demand for these large distribution centers is stronger than ever as a result of the pandemic; just look at the crazy volume of container ships that are now stacked up outside L.A. and Longbeach ports where there is no where near the throughput needed for all this sudden demand to be unloaded and trucked and stocked across the US.
In any case, it's nice to see the new activity, hope and excitement in the local cities and towns that were steel and textile industry hubs. As the economy became more global and these industries were able to thrive in less regulated countries that left Lehigh Valley local towns in a bit of a recession for past decades. Inspiring D+L trails are connected for like 100 miles through PA and the Lehigh Valley now, along with so many other green space wins, such as the Karl Stirner Arts Trail. Downtowns sprouted many popular restaurants that managed to survive the pandemic (with a nice bit of help from the government when they were shut down). So many local entrepreneurs managed to pivot into a quick new curb-side economy and adjust their businesses. So much more al fresco dining and parklets – It's super-encouraging.
Urban revival is absolutely happening around here – there is certainly a new appreciation for the 'walkable city'. Quality of life has improved in the Lehigh Valley and its urban hubs. Consequently – all the demand and limited supply has shot average prices up. Even the rental market is very competitive right now; rents are up quite a bit. When a developer renovates a vacant or distressed property it does need to meet current code standards. With building supply chain issues – it's quite expensive to develop; so this gets passed on to the tenant that will enjoy that brand new unit with a stone counter and new kitchen and beautiful bath. The LVPC tracks population growth and housing needs too: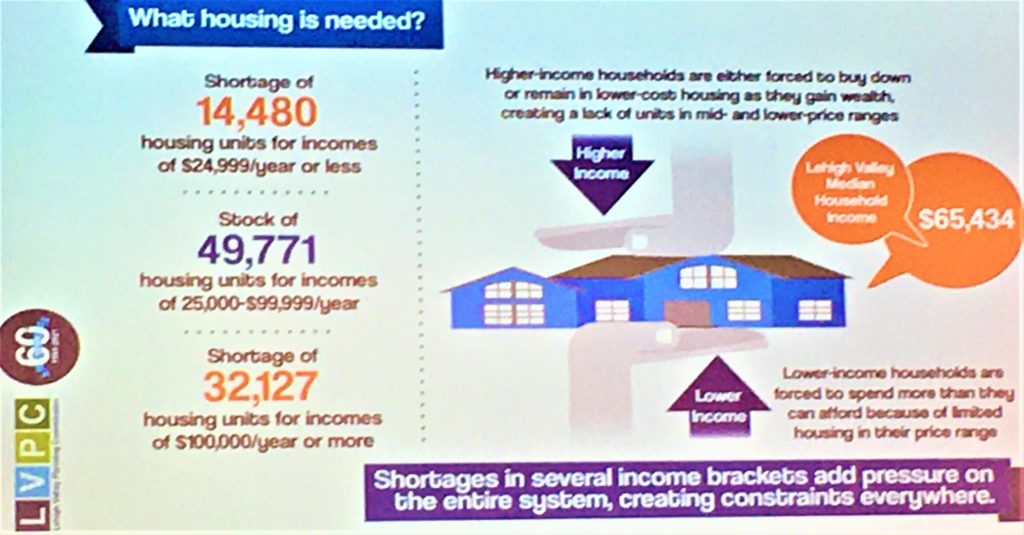 The Lehigh Valley population is growing steadily. By 2030 Lehigh Valley will prob. have over 760,000 residents. A nice healthy job outlook should support the strong economy: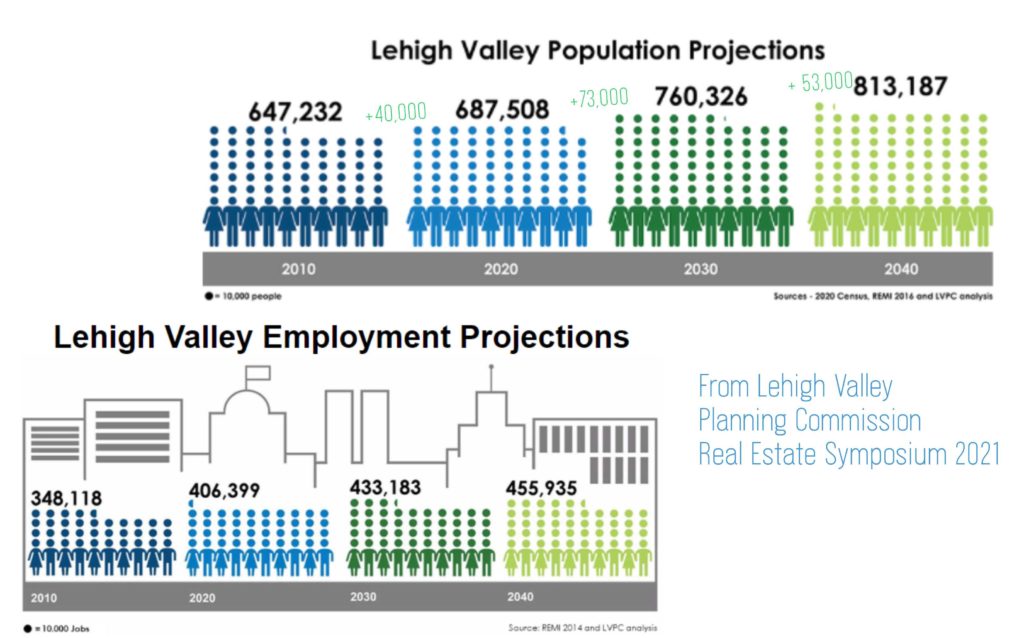 With steady economic growth and population growth, the Lehigh Valley job market is quite strong too. Bottom line is, it's a pretty safe investment whether you have a property portfolio and want to add more rentals, or whether you are able to work from here and want to invest in a home, or if you are a developer that wants to build mixed-use commercial leasing and residential.
What about CONDOs?? Recently we sold a few condominiums – a fantastic adaptive re-use of a dilapidated former granary; the demand was insane. At the Easton Granary we had nearly 100 buyers come through and all four were sold within 10 days; this was JUST before the PA 'shutdown' of Realtors in early 2020. These 4 units are walk-ups, with parking. It's surprising that developers are not building more condos – the demand is definitely there. Yes it's a bit more work to set up the legal condo association, etc. but the last few condos that our office marketed sold like hotcakes. With the aging population that enjoys the downtown vibe and walking to shops and restaurants – based on our experience with them condos, especially with an elevator and some parking would do quite well in the LV cities.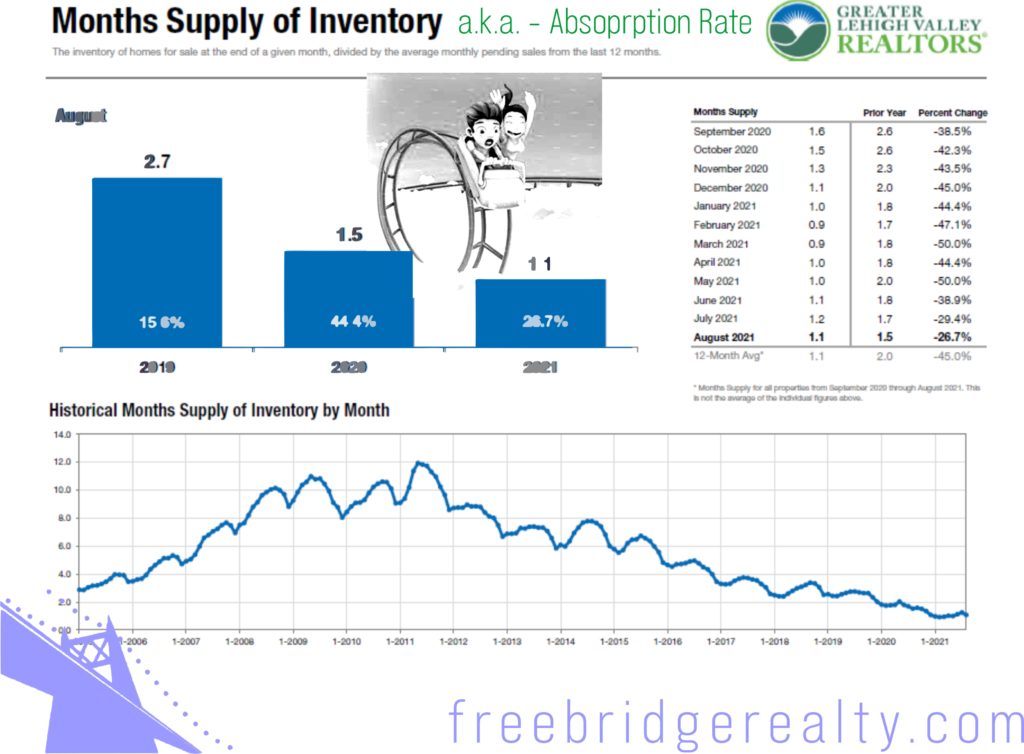 A 'normal' real estate market absorption rate is around 4-6 months of real estate supply. We are down to ONE. If property is priced right for the current market it sells very quickly. Less risky than condos is 'luxury rentals' that afford developers a nice cash flow; it seems that some are opting for this and then considering a re-visit down the road to maybe convert to condo ownership. Who's ready to start investing?!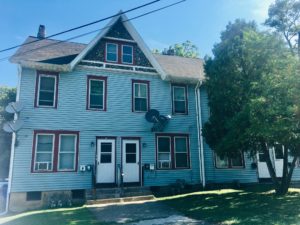 Here's an excellent 7-unit now, located at the gateway to the Lehigh Valley: 1 3 5 7 Memorial Parkway, Phillipsburg NJ.
Unit #4 at 521 13th Street Easton Granary condo sold for $195/sq.ft. pre-pandemic in Feb. 2020… it just re-sold in July 2021 at an unprecedented $232/sq.ft. Way to grow value, Easton Condo!!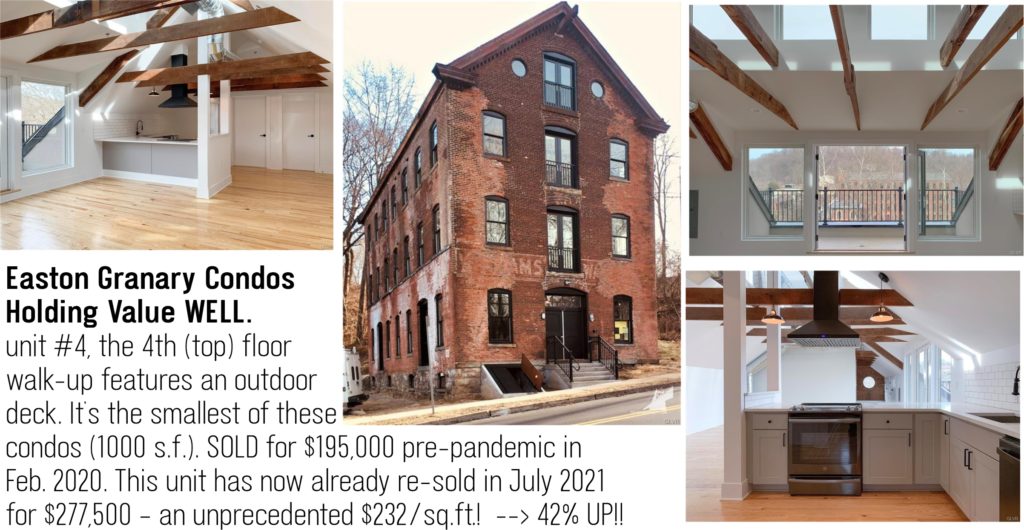 If you're in the market for land, a residential home, commercial space or investment property we can help you. Free Bridge Realty is licensed in both PA + NJ.